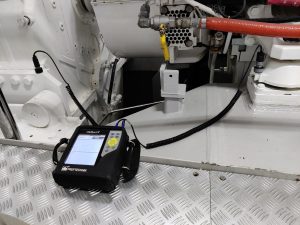 Why are vibration surveys important?
They are essential in order to avoid machinery failure, especially at sea.
As a matter of fact, the propulsion shaft line is the main source of vibration and noise, which can compromise the expectations of comfort on board.
This is the reason why we perform sea trials using precise and analytical instruments in order to gather vibration records.

Using these vibration recordings we are able to create detailed reports, indicating the main corrective and preventive measures to ensure that machines work as efficiently as possible.
The report typically includes graphs of measurements, visual findings and clear conclusions.
This way we contribute to the improvement of both the safety and the quality of the most important piece of equipment of the yachts and could potentially increase the life expectancy of the main engines.
We provide:
– Specification assistance
– Review of design
– Design stage analyses
– Verification measurements
– Troubleshooting measurements
– Vibration surveys